View the Video just put up on this project! Thanks Kara for editing this from the footage I was able to compile :) https://vimeo.com/user6391198

It has been a pleasure to begin my first Interactive Paintings at the VCAC Installation Show. This has also been my first installation.
WHAT: "Installations" Art Show with "Interactive" Paintings by Local Artist Sheila Fein Fantasy Pop
WHERE: Atrium Gallery in Hall of Administration at the Ventura County Government Center: 800 So. Victoria Ave. Ventura, CA
DATES: October 15, through November 28, 2012
HOURS: Monday – Friday; 7:30 am to 5:30 pm
RECEPTION: Friday, October 26, 2012 in the gallery from 5:30 pm to 7:00 pm
CONTACT: Todd Collart, Gallery Coordinator 746-4929 cell; VCAC office 658-2281,
Installation art shows, where artists install artworks created specifically for a particular location, are very rare. They are usually found only in large art museums or private art galleries. The current show at the Ventura County Government Center may be the first time such a show is being staged in a public work place of this nature.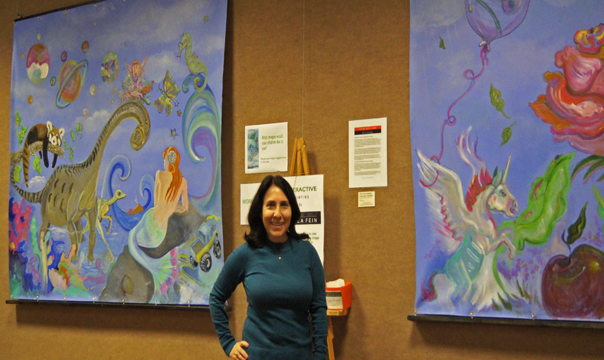 The "Installations" show features 31 separate works by 15 different artists. Our local artist, Sheila Fein, has contributed 2 installations. The second of her two, 5'x 6' "Interactive" paintings has been completed and installed after painting from the plethora of suggestions left for her from the government center employees and its clientele. The paintings have been met with tremendous enthusiasm and have brightened our corridors and added whimsy to a business environment.
Her second installation are large, color form like images hand painted on vinyl, created spontaneously by the artist. She calls them "Gestures of the Mind". They are adhered by suction to the glass panels that run along the 3rd floor above her interactive paintings. For example, large icons of lips talk to us and a sugar bowl with a face floats in space reminiscent of her provocative personification paintings from the 1990's.
We invite you to come and experience the work. Leave suggestions for Sheila's 3rd. "Interactive" painting. She intends to continue the series and is planning her next venue.